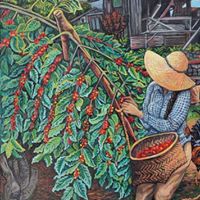 The award-winning Kona Coffee Cultural Festival
November 3, 2017 through November 12, 2017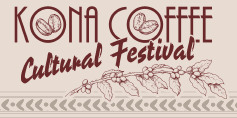 The Kona Coffee Festival recognizes the achievements of Kona's coffee pioneers, farmers and artisans. This award-winning coffee fest is recognized as the oldest and most successful food festival in Hawaii. The festival starts Friday, November 3 and runs through Sunday, November 12, 2017. The festival includes 10 days of events honoring Kona coffees cultural heritage.
Festival Events include:
A Lantern Parade. 

 Historic Kailua Village. 

Nov 3, 6:00 pm – 9:00 pm. Watch as the lantern parade winds its way through Historic Kailua Village with its glowing procession of light, music and color. And finally culminating with an evening bon dance at Hale Halawai.

The Holualoa Village Coffee & Art Stroll.  In historic Holualoa Village. Nov 4 – 9:00 am – 3:00 pm. Stroll through the art district of quaint Holualoa Village. While strolling visit galleries exhibiting an extensive collection of local artists. Also over 30 Kona coffee farms join the festivities offering tastings and products for purchase.

The Miss Kona Coffee Scholarship Pageant. Sheraton Kona Resort & Spa – Kaleiopapa Convention Center. Nov 4 – 5:30 pm. The Miss Kona Coffee Scholarship Pageant is hosted by the Kona Coffee Fest each November. A big mahalo to the scholarship sponsor – Ueshima Coffee Company, Ltd. 

The newly crowned winner will also travel to Japan to promote Kona, it's special coffee and the industry.

The Kona Coffee Recipe Contest & Big Island Showcase. Sheraton Kona Resort & Spa – Kaleiopapa Convention Center. Nov 5 – 10:00 am – 3:00 pm. Big Island Showcase opens at 10 a.m.  Featuring Hawaii Island products, gifts, and opportunities to buy farmer-direct Kona coffee. Also amateurs, culinary students and professional chefs present their favorite sweet and savory recipes . All featuring 100% Kona Coffee. Keiki (children) showcase sweet or savory snacks. Recipe contest doors open at 11 a.m.

You'll experience:

Cooking demonstrations.

Judging & award presentations.
Public tasting to follow.
More Events:
Kona Coffee Cultural Fest Ho'olaule'a.

 Makaeo County Pavilion. 

Nov 11 – 9:00 am – 3:00 pm. A celebration of all things Kona coffee.

Ho'olaule'a vents include:

Hands-on cultural demonstrations.
An ethnic food market.
The Festival of Arts & Crafts.
Additionally, all-day live entertainment.
Enjoy the beautiful lei contest. Participate in traditional Hawaiian poi making, ikebana and traditional Japanese calligraphy.  Also visit the heritage display. Indeed, all day fun for the entire ohana (family).
Kona Coffee Council Farm & Mill Tour.  Leaves from Keauhou Shopping Center.  Nov 7 and 10th – 9:00 am – 2:00 pm. You will visit three working coffee farms in Kona. The fee of $75 includes your transportation and a box lunch. Pick up and drop off located in front of Regal Keauhou Stadium 7 Theatres in the Keauhou Shopping Center. Reservations required; book online at www.kona-coffee-council.com.
Kona Coffee Living History Farm Tour – November 3-10, 2017. Daily at 2:00 pm. $10 with festival button (available for purchase on site). Stroll through this historic farm on a self-guided tour that reveals the story of Kona's coffee pioneers during the early 20th century. Walk among the coffee trees and meet a "Kona Nightingale".  Also discover how farmers used the kuriba and hoshidana to mill and dry Kona's world-famous coffee.
Festival Calendar of Events and more info at konacoffeefest.com