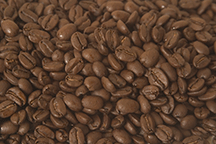 Artisan coffee roasting. What is it?
Artisan coffee roasting is an art. While many roasters are now nothing more than glorified button-pushers on machines that have have pre-set roasting settings, artisan coffee roasters apply  creativity and art to the roasting process.

The factory presets on industrial roasting machines would be appropriate —  if every batch of green coffee ever roasted were exactly the same. Artisan roasters examine each batch of coffee and make adjustments during the roast process.
Artisan Coffee roasters continuously make adjustments to the roasting process.
A skilled coffee roaster takes the following factors into consideration:
The moisture content of the beans (11% to 12% usually being optimal).
After examining bean density, size and uniformity within the batch, the roaster considers a roasting profile to use for this batch.
Determining optimal charge temperature. The roaster finds the optimal temperature in the roast chamber before adding green coffee beans.
When the optimal charge temperature is reached the green beans are added to the roast chamber. When the cooler green beans enter the roast chamber the temperature will drop sharply until they reach the turning point.
The turning point is when the bean temperature reaches the lowest point and begins to rise.
With this in mind the roast master will constantly watch the RoR (rate of rise). Rate of Rise is the amount of time the beans have been in the roast chamber in relationship to the rise of temperature.
Consequently the roast master makes adjustments throughout the roast process to follow the chosen roast profile.
Roast master Adjustments:

Regulating the amount of heat being applied to the roast chamber.

Adjusting airflow through the roast chamber.
Definition of artisan
A worker in a skilled trade that involves making things by hand.
synonyms: craftsman, craftswoman, crafts person; skilled worker, technician; smith, wright, journeyman; archaic artificer
A sample: "artisans from around North America will demonstrate their crafts"
(of food or drink) made in a traditional or non-mechanized way using high-quality ingredients.
"local artisan coffees"