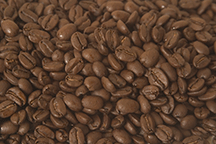 Grading by bean size and amount of defects.
The dry mill grades the green coffee beans according to size and number of defects in a given batch.
Grading the Beans – Size differences
Fancy or Kona #1 beans make up about 75 percent of the harvest. These are the beans most coffee drinkers are grinding when they're making their cup.
Extra Fancy beans  make up about 20 percent of a farm's crop. They are heavier and larger. They are the biggest in size and will have the least amount of defects.
Peaberry  is the rarest of the beans, typically accounting for 3-5% of the total crop. They are genetic anomalies. Normally, two coffee beans are in a berry. However, in the case of peaberry, there's just one bean. Regular coffee beans are also flat on one side and round on the other, but peaberries look like almost like little footballs. They have a lower acidity and because of their shape, they roast differently and have a slightly different taste. Connoisseurs say they are the smoothest of all and have more of a chocolaty flavor than the other Kona beans .
Estate:
Also, you might hear the term Estate Grown. Estate means all the beans are all from the same farm. Estate is usually not graded so it may contain a mix of all grades of Kona.
No matter what kind of bean you choose to drink, make it 100 Percent Pure Kona Coffee. Its balanced flavor, low acidity and world renowned quality is unparalleled.