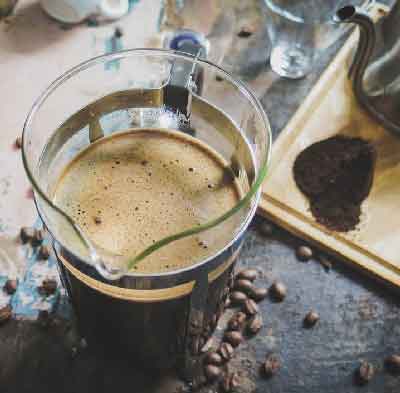 Step by step instructions on grinding, brewing and making the perfect cup of Kona Coffee, every time!
Kona coffee is a rare, expensive treat that stimulates all the senses. So why do anything less than put some effort into brewing? As you'll see, it doesn't take that much more time.
Choose your favorite Kona bean
We stock all bean varieties, to fulfill your need for quality coffee. Choose from:
The Grind
Grinding beans is a treat all its own, with its rich, spicy aroma. Also a secret to good coffee often starts with its grind. It's important to know what of grind works best for the flavor you're chasing — whether its coarse, medium or fine.
| | |
| --- | --- |
| Coarse Grind | French Press, Toddy Makers (cold brew method), Vacuum Coffee Maker, and Percolaters |
| Medium/Fine Grind | Auto Drip Makers (with flat bottom filters). Drip Makers (with cone-shaped filters) |
| Fine Grind | Stove Top Espresso Pots |
| Super Fine Grind | Espresso Machines |
Amount of coffee:
Generally, a good rule to follow is to use 2 tablespoons of coffee beans for every 6 to 8 ounces of water.  Adjust for taste.
Using a blade grinder:
Load your fresh beans in the top of the grinder. Once the grinder is loaded, use the grinder in short bursts  a few seconds each so the coffee doesn't overheat. Also shake the grinder as it's grinding to get an even grind size.
Using a Burr Grinder:
Burr grinders offer coffee drinkers greater precision and consistent grind size. It's a more expensive alternative to other grinding methods, so some time needs to be spent figuring out what burr grind works best for you.
The water: 
We recommend using filtered water for brewing. The better the water, the better the end result. Public water systems tend to add undesirable flavors.
Brew your Kona coffee
It's not enough to bring your water to a boil. You want that water the right temperature  — between 195 and 205 fahrenheit. Just below boiling. Any hotter, and you'll run the risk of burning the grinds when you add the water.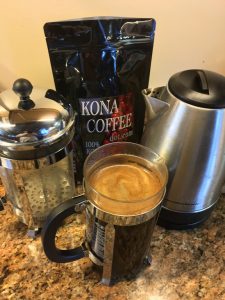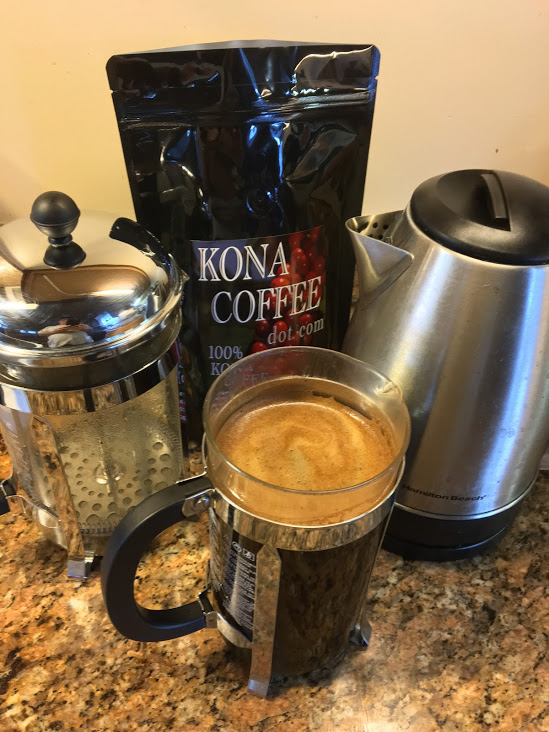 We recommend using a French press. Add 1 rounded tablespoon of ground coffee for each 4 ounces of water to the French press. Stir the coffee, allowing the  grounds to interact with the hot water.  Wait 3 to 5 minutes for the coffee to steep, then plunge slowly. Complete instructions for getting the most from your French press here.
Drip coffee maker and pour over:
If you're using a drip coffee maker or using the pour over technique, we recommend using a natural paper filter.  Cloth filters can add undesirable tastes to your cup of Kona. For drip or pour over brewing use the approximately the same amount of coffee described above.
Enjoy!