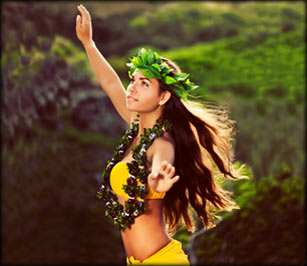 The 35th Annual Hula Festival
The theme of this year's hula festival is "The famous sands of Kahelelani (Ni'ihau) to the fragrant scent of Kamawaelualani (Kaua'i)."
Each halau will pick a song for the islands of Ni'ihau or Kaua'i that names a place on either of the islands or something unique to those islands ex. Pupu O Ni'ihau, Mokihana, Maile lauli'i, etc.
Hula
Hula is a native Hawaiian dance form that's accompanied by an oli, or chant.  The dance dramatized the words of the oli through motion. There are two forms of hula —  Hula ʻAuana and Hula Kahiko.
Hula Kahiko:
Traditional  hula, as it was practiced by pre-contact Hawaiians, is Hula Kahiko. Ancient instruments and chants accompany the performances. The dances were also religious in nature, honoring the Hawaiian pantheon of gods. Consequently even minor errors were considered to nullify the performance and were taken as bad omens.
Finally it is important to realize practicing during this time meant learning in seclusion. The belief being that any mistakes would not be in the sacred space of the heiau, or temple. Also as added insurance, the dancers were put under the protection of Laka, a goddess identified with the hula.
Hula ʻAuana – Western Influence
Hula ʻAuana that has a western influence, is the form of hula most tourists associate with Hawaii (ʻAuana means to wander or drift).  Guitar, ukulele and stand up bass accompany the dance. Thus the Western influence.
The ancient Hawaiians had no written communication, so hula was often the way to transmit knowledge across generations.
Craft Fair:
The festival also features a craft fair. About 30 artists and vendors across Hawaii will sell one-of-a-kind items like koa carvings, jewelry, clothing, original artwork, lauhala and  more. 
Date:  September 13-14, 2017!
Doors Open: 5:00 p.m.
Craft Fair: 8:00 a.m.
Kelly Hudik, Elderly Recreation Services, (808) 323-4340
Email: Kelly.Hudik@hawaiicounty.gov